the CIrcuit
creates powerful connections
The Circuit is an online COMMUNITY of young people from any background, tradition, or identity group who are interested in asking the BIG life questions, exploring SPIRITUALITY or FAITH, and/or CHANGING the world through service & activism.
We want YOU to be part of our community!
Whether you lurk, comment, or jump into a live, YOUR unique voice is important to us!
Follow the right-hand link below to join our private Facebook group (our community's home-base), and subscribe to our email list with the left-hand link below to learn about what we have going on each month, in each of these categories:
Keep up with our latest on-demand content by SUBSCRIBING to our podcast, The Circuit Connection, which is liked below; SUBSCRIBING to our Youtube channel; and FOLLOWING our Facebook page
The Labyrinth: A Quick Intro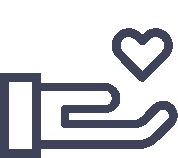 "Find out how much God has given you and from it take what you need; the remainder is needed by others."

– Augustine

wE EXIST ENTIRELY ON DONATIONS. WILL YOU HELP?